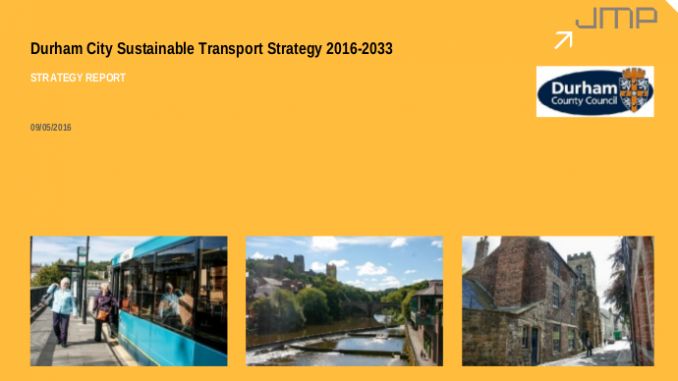 In the autumn of 2015 Durham County Council invited a variety of stakeholders to a series of engagement events organised by the transport consultancy JMP, who the council had commissioned to prepare a sustainable transport strategy for Durham City. Some Trust Pathways members were among those invited. In November 2015 an report entitled Durham Sustainable Transport Plan: issues and opportunities report was issued by JMP, summarising their findings and reviewing the relevant evidence. The actual strategy document appeared in draft form in January and after a round of stakeholder consultation and several iterations incorporating the Council's amendments, it was released to the general public for consultation.
The Trust Pathways group has submitted a response to the strategy. Our main points are summarised as follows:
Sufficient reduction in carbon emissions attributable to transport cannot be achieved without a shift away from private motor vehicles, whether powered by fuel or electricity. This should be made explicit in the objectives.
The strategy needs a stronger link to land use planning, and should be more critical of current local planning policies and practice.
The adoption of a user hierarchy which places walking and cycling as the highest priority, needs to be followed through by early identification of a core city-centre cycle network before further money is wasted on junction and road improvements which have not included cycling in the design process. Plans for improvements to North Road should be halted until a cycling route has been identified.
"Smarter choices" promotion will not be effective until better cycling infrastructure is provided. After a core city-centre network is provided, high quality radial routes should be provided to each suburb in turn, and promoted as they are finished.
Before considering building relief roads, new routes for walking and cycling should be provided, such as north to east via the Belmont Viaduct, and from Belmont and Carrville to the University via Old Durham and Maiden Castle.
The strategy is weak on timescales, quality and targets.
Delivering the strategy will require staff resource within the council to be reapplied to sustainable transport solutions instead of road widening and similar traditional occupations of highways engineers.
Continuing engagement with stakeholders, including cycling groups, is crucial.
If you are interested to see our full response, and read the original documents from the Council, please use the links below. We would welcome your comments!