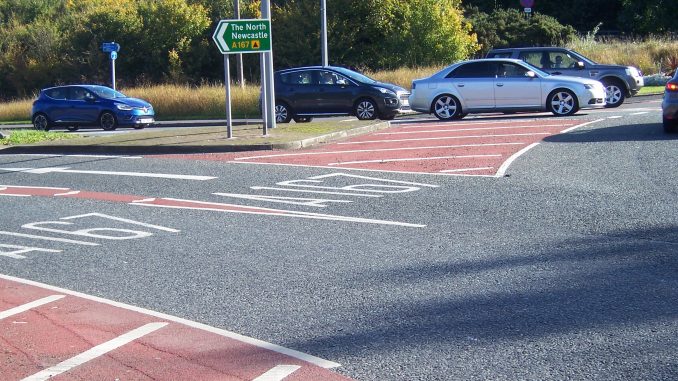 Your correspondent (1965 vintage) took his Carlton road bike (1979 vintage) out for a day at the seaside recently. Part of the route involved following the cycle path up the A167 between Pity Me and Birtley. This stretch will form part of one of Durham County Council's Strategic Cycling Routes, and the Great North Cycleway linking Blyth to Darlington.
One of the key commitments of the Council's Cycling Strategy (due to be revised this year) was to "Develop a backbone of urban cycle superhighways / networks in the 12 main towns". You may have been aware of some works going on along the A167 in recent months, so it was a chance to see what progress is being made; and how much commitment is being shown to creating a Strategic Cycling Route worthy of the name.
Your correspondent joined the A167 at the Pity Me roundabout, one of several major junctions on the road which provide a formidable barrier to cyclists and pedestrians alike. In 2014 Durham County Council commissioned  a report from Transport Initiatives LLP of Brighton, called Durham City Strategic Cycle Routes. (It's well worth a read, as it shows how much work there is to be done – and how slow is the progress.)
The consultants identified the problems at the Pity Me roundabout and said, "Uncontrolled, high-speed roundabouts like this are hazardous and intimidating for cyclists." It recommended putting in signals, adding, "some form of advance detection to the cycle approaches should increase convenience for cyclists and reduce delays to traffic when not triggered… It is further suggested that speed limits are reduced to a maximum of 40mph on all arms."
Earlier this year there was indeed work carried out on this roundabout. A nice new road surface was laid, and sharp, new lane markings.  Light controls?  40mph speed limits? Changes to the high-speed traffic entry-and-exit flows? Sadly not.
One reason often given by DCC for not adding dedicated cycling infrastructure at junctions is, "not enough room". Clearly that can't be the reason here. In fact, there's so much room that Durham's highway engineers didn't know what to do with it all, so they hatched it off.
But they certainly haven't made it available to cyclists. Here's an example of your cycling provision: 18 inches of broken tarmac, and a bramble in the face for your trouble.
Further north, on the right-hand side of the dual carriageway heading towards Chester-le-Street, the pavement has been made considerably wider (it was little more than a dirt path before). It's an improvement, but far from ideal. For one thing, people on foot have to share the space with people on bikes, though it annoys pedestrians and cyclists alike. Another is the lack of separation between the shared use path and the carriageway. The current cycle design standards from Highways England (IAN 195/16) require an absolute minimum separation of 1.5m alongside 50mph roads, with a minimum of 2m being preferable. As the standard explains, "Horizontal separation helps protect cyclists from the draught created by passing motor traffic and from debris thrown up from the carriageway" and can "help reduce the effect of glare from oncoming headlights in dark conditions". A grass verge in between the cycle path and the carriageway also makes cycling with children considerably less stressful.
The other issue Durham's highway engineers seem unable to engage with is the idea of a continuous cycle path, with priority over traffic entering or leaving side roads. Even on this brand new piece of infrastructure, the pavement drops to allow uninterrupted passage to the motorist – in this case, into the tyre depot and for somebody's driveway.
At the Ropery Lane Roundabout, in Chester-le-Street, the cycle path now diverts through the Riverside Park, ducking under the road through this underpass. This is a much better effort, almost gold standard for Durham. Underpasses often get bad press, particularly in city centres where dingy, poorly-lit ones can be no-go areas after dark, but this one is pretty good. Note the straight approaches on either side, which allow people to see all the way through and feel comfortable that there are no potential assailants lurking just around the corner.
We urge the council to extend the improved provision into the centre of town as, at the moment, this uncontrolled crossing with a deeply inadequate cage-pen on the refuge leaves cyclists on the wrong side of the road when attempting to use Ropery Lane.
From here, the cyclist takes her chances with the general traffic through the centre of Chester-le-Street; a town with presently almost no concessions to safer cycling.
Any cycle path is only as good as its weakest link. Trust Pathways is concerned that, while limited funds for sustainable travel provision are being spent piecemeal, Durham County Council still fail to wrestle with the hard problems. They get to places such as Pity Me roundabout and just give up, risking rendering the whole infrastructure useless.
Further reading
Here are a couple of articles about underpasses, showing that with good design they can often be the best way of crossing busy roads:
It is hard to find official information about the Great North Cycleway, but it was announced six years ago and figures in a number of council documents across the region. Here are two articles which mention it: