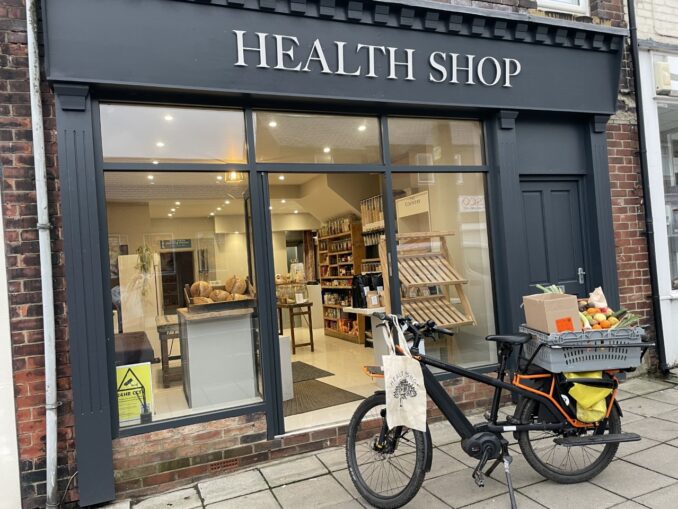 The idea of using bikes to deliver goods is nothing new, but in the UK, it has drifted to the margins as lorries and vans have taken over. The decline in delivery by bike also seems to be linked to the rise of the supermarkets: your local butcher, grocer or baker might well have offered delivery by bike before shopping by car became the norm, our grandparents may well recall their deliveries being made by bicycle, but in many places these days, having any local independent shops is rapidly becoming a thing of the past.
It seems appropriate then that our independent stores are leading the way in becoming the first to trial the use of cargo bikes for their deliveries. Glover Gomera of the Health Food Shop in Langley Moor kindly shared his experiences of using cargo bikes for his regular deliveries around Durham City.
We would love to publish more articles about cargo bikes, so please get in touch if you use one for shopping trips, for the school run or for business purposes.
When do you use a cargo bike and for what purpose?
We use the cargo bike twice a week for delivering small orders.
What kind of cargo bike do you use?
We are currently using a Multicharger Riese and Muller.
What area do you cover?
We do Langley Moor, Brandon and Nevilles Cross. We tend to cover a 3 miles radius on the bike and the rest of the orders are now delivered on our e-van.
What's good and bad about this area?
We like that it is easily covered on an electric bike. We dislike that the A690 gets traffic that goes beyond the speed limit and no one gives way.
Do you also use a normal bike?
Not anymore.
What are the problems specific to your cargo bike?
The time that it takes to cover some of the areas where we have trade and the type of products we carry (chilled goods and eggs). Also, the danger of being on the road.
Which road segments in your city are best/worst for your cargo bike?
Best: A167. Good because it has a cycle path or it is possible to avoid cars.
Worst: Unfortunately, A690, because it lacks designated cycling space, traffic lights and speed cameras.
What are other important aspects of your route choice?
Quality of road surface, sign posting and traffic.
E-cargo bikes are simply electrically assisted bikes designed to carry a load. And compared with diesel vans, these freight vehicles emit up to 90% fewer carbon emissions when delivering goods in city centres as the final part of the supply chain, or the 'last mile'. Cargo bikes are often longer than an ordinary bike: perhaps about the size of a tandem. They are very light compared to a motor vehicle with some their work done by the rider. The electricity requirement needed to power an e-cargo bike is tiny compared to that of an e-van.
At the time of the interview, only the A167 has a cycle track shared with a footpath. Apart from that, there is little specific cycle infrastructure to assist such businesses in and around Durham city. Even if firms want to deliver in this way, using sustainable transport, they would have to be seriously determined and committed.